You are committed to delivering perfectly each and every time for your customer…but sometimes things just go wrong. How does your team respond when something goes wrong? Are you committed to making it right? 
If your customer reviews are making you cringe, it's time to co-create an internal culture with your team that transforms the customer experience.
A Customer-Focused Culture Starts with Trust
There are some universal principles that apply if you want to retain customers and achieve business success: 
Address and prevent mistakes. When a mistake happens at any level, make it right and prevent a recurrence.

Cultivate a positive mindset. Believe it is possible to satisfy customers, or it won't be.

Monitor progress. On a real-time basis, you need to know if you are delivering.

Empower employees. Your team should be able to make it right as soon as an issue is brought to their attention. 
The foundation of these principles is building your customers' trust. 
Whether you are selling hot pizza or quality healthcare, customers want (and need) to trust that you will honor your commitments and make things right when they go awry. 
When a customer has a disappointing experience, the way you respond can win their loyalty or lose their business. They are likely to bring others with them either way.
3 Steps To Address & Prevent Customer Issues
Whether it's business to consumer or business to business, when a mistake happens at any level, your job is to make it right and make sure it doesn't happen again. Here are three key steps you can take to ensure the customer is prioritized:
Know your commitments – your promises, your deliverables – whatever it is that you have guaranteed. Whether it's a certain shipping timeframe or 1000+ contract deliverables, your first job is to know what your promises are, and understand the details that make it possible to keep those promises. 

Set up your systems, processes, people training, and every other aspect to honor your promises!
Test it out. Don't go by subjective reports. Look at the data, look at the proof. Are you delivering on your promises? If not, go back to the drawing board. Be relentless. Don't stop until you deliver on those promises.
The Role of Positivity in a Customer-Focused Culture
Before you can implement the three steps listed above, check your perspective. You have to believe it is possible to satisfy customers or it won't happen. If you're in a room of people telling you it's impossible, you've got to bring a new perspective into the room and change the story. 
I'm not saying dismiss the people who are concerned. Their concerns are valid. I'm saying that the first order of business is to get everyone in the room believing it is possible and talking about how it's going to happen rather than why it can't. 
Until you change that story, you're not going to get where you want to go. Don't blame the people; just work together to get to that new story. Do whatever it takes.
Monitoring the Customer Experience
OK, now you know your commitments. You've built your systems to honor them and deliver on them. You have tested and proven that it does work. Now it's time for the monitoring game.
Yes, it's expensive. Yes, it takes time and people power. But you need to know on a real-time basis: Are you delivering? 
Look at your objective data. Read your reviews and all your customers' input. Make sure you know on an ongoing basis, both objectively and subjectively: how are you doing? And just keep at it. 
For a Customer-Focused Culture, Give Employees the Reigns
Failure to deliver often happens when your team is not empowered to resolve issues. Give people the power to make things right as soon as the issue is brought to their attention.
That's right. The more power your team has, the happier your customers are going to be. If your team sounds like robots—"We're sorry, but that's the policy"—forget it. Your customers are going to be angry. They don't care about your policies. They care about getting what they need, getting what they want, getting what they think is fair. 
Is it hard to do this some days? Yes, it can be really hard. There will be times when you can't give the customer what they need or want or what they think is fair. That's the envelope we're always pushing, trying to find a solution.
That's when the power of choice comes into play. 
Whatever choice you can give your customer, do that. Whatever power you can give your employee to solve problems, do that. Whatever you can do to make it right, do that. 
It might feel like an uphill battle sometimes, but the commitment to diligence and the authentic and real interactions with your customers makes a huge difference. 
The Good, the Bad and the Ugly: Examples of Customer Service in Action
We've all heard those stories from friends or family who tell us about an unforgettable experience they had with a company… and we all know this: exceptionally good and exceptionally bad experiences are unforgettable. 
Let's look at a few examples of unforgettable service that made a direct impact on customer loyalty.
First up, we have an example of the Good. Lynn, a new Starlink customer, received a damaged package and reached out to customer support. She received this message:

Not only does this response express empathy and a clear apology for the damaged package, but takes it a step further to assure the customer that the issue will be resolved if the Kit malfunctions. 
Do you think Lynn had any regrets in purchasing from a company that so clearly cared about her experience and responded so quickly to resolve the issue? You guessed it—she became a Starlink fan for life! 
Now, here is an example of the Bad and the Ugly. This is what can happen when a customer has a difficult experience that is left unresolved.   
Recently a friend of mine was considering a specific Home Depot for a kitchen remodel. As she read through the online reviews, it became painfully apparent that this store had a failure in their process when it came to resolving problems. This resulted in loss of business and scathing reviews warning others not to go to this Home Depot.
This review gave my friend serious pause as she considered where to take her business: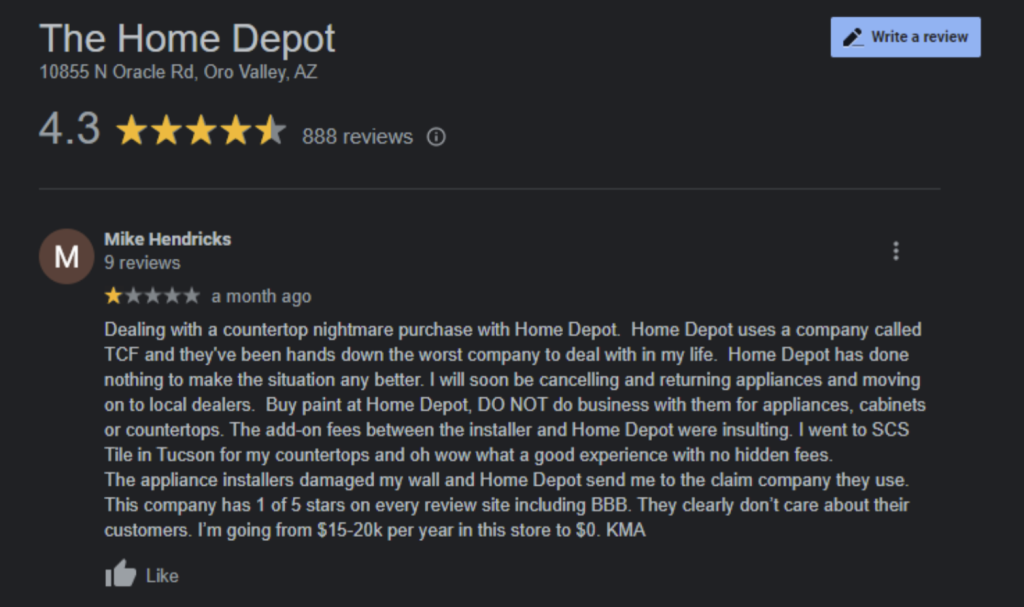 Finally, let's end with another example of the Good. 
Someone I know is a loyal customer of their local coffee shop. Even though it's more expensive than other coffee shops in the area, they choose to visit this one. They'll say, "I felt like the person working there really cared about me in my day. I left feeling better."  
At one point, this person had added up the amount they spent at their local coffee shop per year. With the five dollars a day for their coffee, it came to $1800 a year, but they decided it was worth it because the experience brightened their day.
On the other hand, I've heard people talk about another coffee shop in the area, and their experience wasn't as great. They'll say, "You know, the worker smiled and said the script, but I just know it's not real so it just turns me off." 
Two companies both committed to great customer service, both committed to training, investing in their employees; yet one experience feels inauthentic and pretty much a waste of the customer's time, and another experience uplifted the customer and has them wanting to go back. 
The Importance of Connection in a Customer-Focused Culture
When customers experience genuine connection with your team, you win their loyalty. How is your team doing today with customer connection? 
The way your team relates to customers is even more important than the industry you're in or the product you're selling. Regardless of how great your product and service is, if your customer interactions leave the buyer frustrated, your business will suffer. 
Don't Give Up!
Are you a leader who promotes authentic, real connection? Are you a leader who empowers your team to make it right? Are you a leader who is organized and diligent in understanding the myriad of commitments that need to be met on any given day, and building the systems and capabilities to do that? I bet you are!
Like so many great things, building a customer-focused culture can be easier to talk about than to do…but it's worth it! It's going to pay off. Keep at it. Keep your eye on the prize and one of the biggest prizes comes with delivering on your promises.